Blog by Jan van der Veen, University of Twente
Representatives of the four Dutch universities of technology involved in 4TU.CEE investigated what could be learned from the two Swiss technical universities at Lausanne (EPFL) and Zürich (ETH) during a two-day visit this March. Both rank among the top technical universities worldwide, and we were very curious to hear more about their innovations in engineering education. The grass is always greener on the other side, and yes, we did find many inspiring examples, here are some 'snapshots'.
Learning spaces
The Rolex Learning Center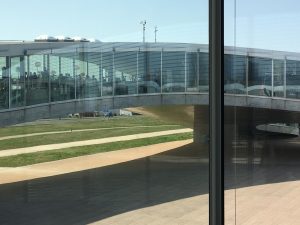 At the border of Lake Geneva the EPFL Rolex Learning Center is a meandering building made out of concrete and glass. Light is coming from unexpected angles. Students and staff meet at their own convenience. Besides the library and study places there are numerous meeting spots. The welcoming nature of the building invites students to get together and jointly work on projects. Both at EPFL and ETH new facilities are planned for student groups that can design and build their own creative solutions while promoting a multi-disciplinary approach. Clearly new learning environments and new learning scenarios go hand in hand.
Interactive teaching
'MOOC' studio at EPFL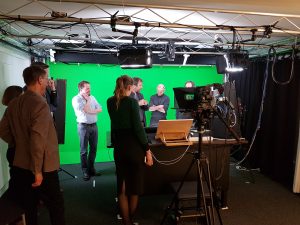 An interesting side-effect of MOOC productions at EPFL is that the MOOC resources are now widely used within regular courses. This fits within a trend moving away from large audience lecturing to dedicated online material in combination with quality time when staff and well-prepared students meet in smaller groups. At ETH a special app enables students to find their way in the myriad of buildings in the city center. At the same time teachers use this Edu-app to interact with those attending lectures, for example by posing questions that students first discuss before responding via the app. This activates learners while giving lecturers direct feedback with respect to what is understood. New tools such as Go-Lab, shown at EPFL, allow teachers to combine their own educational scenario with existing simulations.
Online examinations
Digital testing at ETH allows for the integration into the test of programming tools or other software enabling authentic tests of competencies. Also in the online world one searches for a fit between the learning scenarios and virtual spaces and tools.
Want to know more?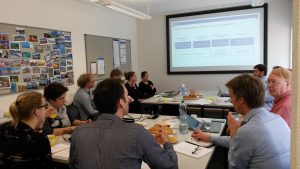 For us it was an interesting trip, exchanging many ideas and discussing how we can support the uptake of new opportunities. Would you like to receive more information about how innovation projects at EPFL and ETH Zürich might be beneficial to your educational innovations? Contact your 4TU.CEE representative to find out, or send an e-mail to: 4tu.cee@4tu.nl.