Blog by 4TU.CEE Leader Emiel van Puffelen (WUR)
The strategic visions of the 4TU show the need for changes in our education as future engineers will operate in a different and rapidly changing world. The 4TU.CEE learning spaces tour offers excellent opportunities to see experiments with, and implementations of, the new type of education that is needed. The second tour was on 12 March at the campus of Wageningen University and Research and it certainly offered inspiration for new learning approaches and 4TU cooperation.
Clever Robots for Crops
We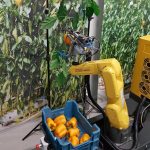 started at Phenomea Axis and in 15 minutes Jochen Hemming showed us a Harvesting robot for sweet–peppers.
The combination of 3D and other cameras in the robotic hand guides the robot to harvest ripe fruits fully autonomously.  This result of the European FP7 project Clever Robots for Crops is a nice example of new techniques for society.
Learning with real-world projects: Education Project Services and Academic Consultancy Training
The first educational sessions concentrated on using the living lab approach to achieve the new learning outcomes that are needed. Saskia Leenders–Pellis showed how Education Project Services organises more than 200 real-world projects for roughly 1,500 students a year. The majority of those projects are for Academic Consultancy Training (ACT) as was shown by Valentina Tassone. Students learn to: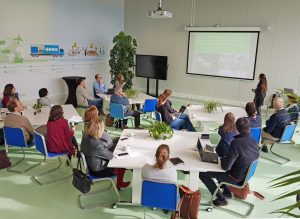 Design and execute a transdisciplinary oriented academic consultancy project
Communicate viewpoints and findings
Reflect and give feedback
Demonstrate attitude and skills for working within real-life complex collaborative contexts
One of the external commissionaires: Birgitte Looijen of Idealis accommodation provider, showed that she was pleased with example project 'Living lab Droevendaal'. That matched perfectly with the enthusiastic presentation of the same project by two students: Eva Meijer and Gunnar van Weezel. Their learning experiences showed the strong potential of this approach even at a scale of more than 1000 students a year.
After that, a nice hike brought us to the wonderful Forum education building for lunch, discussion and a short tour.
Learning space: the world with entrepreneurial commitment
Another hike brought us to the Triton building, a world sparkling with young entrepreneurs. Here Gerlinde van Vilsteren presented plans for a new building with learning spaces: Plus Ultra 2. After that Tim Daalderop and Nina Kosten showed us in their presentation how students are assisted in becoming entrepreneurs and how entrepreneurship is integrated in the education programmes and courses. It is an extensive and integrated package and version 2 is now being drafted! The ideas and options for 4TU.CEE cooperation generated a lot of interaction amongst the tour participants, and that was continued during the next hike to, and the coffee/tea break in the Impulse building.
Challenge to learn!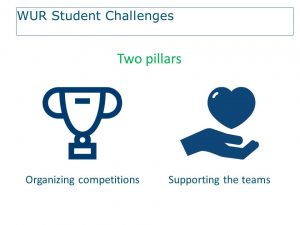 Marta Eggers was waiting there in the speakers corner.  She introduced the Urban Greenhouse and ReThink Protein Challenges and explained how they work: by organising competitions and supporting the teams. She challenged the group to formulate their preferences and approaches and soon the speakers corner was filled with debating 4TU staff. New ideas for projects were born and practical advice was exchanged.
Real world student projects custom made for societal organisations
Lastly, we went back to Forum for a session about the Science Shop with Leneke Pfeiffer. She showed us real-world student projects that were custom made for societal organisations. An excellent way to combine working on Sustainable Development Goals with education! Leneke also helped us in formulating our take-home messages.
Learning Spaces tour: opportunity to see and draft what is needed for the future!
Those messages and the wrap up of the day showed rich experiences with new education approaches for the learning goals of engineers of the future. They also indicated that the tour helps in generating new ideas for 4TU.CEE cooperation. Those ideas are not included in this blog, which only covers the headlines of this day. More information is available by clicking on the links in the text. But nothing replaces the real thing of experiencing the tour! The next stop on the learning spaces tour will be TU Eindhoven. 4TU staff is most welcome to join. Watch the 4TU.CEE events page in the next weeks and sign up!