Blog by 4TU.CEE programme coordinators Chantal Brans (TU/e) and Renate Klaassen (TUD)
This year's theme of the SEFI conference in Copenhagen was built on the three pillars "Creativity, Innovation, and Entrepreneurship for Engineering Education Excellence".
In her key note Ruth Graham addressed the innovative nature of the up and coming or trending Universities (MIT report) around the world. In the panel discussion with representatives of the trending Universities it became clear that creativity, (team) initiative and entrepreneurship and as a result thereof innovative results in student output, at curriculum and programme level are among the key ingredients of excellent universities of the future. Inspiring examples were given:
a Dream Team student from TU Delft was present, expressing the student driven and entrepreneurial mind set need to succeed;
a student from the entrepreneurial programme of DTU (DK) demonstrated how this type of approach is embedded in the whole programme;
from UCL (UK) a programme change maker, responsible for the bachelor programme design, showed that interdisciplinary learning with challenge based assignments including clients from industry, were driving forces to break down barriers between different disciplines;
in Singapore (SUTD) the 4D principle of student learning was emphasized, where students go from 1D design activities, applying concepts in practice to 4D student led design activities;
PUC in Chili has a mandatory hands on cross disciplinary course where student solve problems facing Chili by seeking technology based solutions. Regional entrepreneurs are involved as coaches;
CSU Australia discussed a fully flexible programme with a Netflix model of learning path and job-placement to learn and demonstrate the mastery of engineering skills. Requiring high levels of independence, entrepreneurship and creativity.
Industry perspective
Another perspective was given by the industry key note speakers and panel discussion. They pointed out that the shortage in the labor market for technology driven jobs will have amounted to 700.000 worldwide in 2020 – 2025.  Reasons for companies like Microsoft, Netcompany and Dassault systems to present the universities what their needs are concerning employees.
The view of the industry, provided by Charlotte Mark (Microsoft) and André Rogaczewski (Netcompany) on what they need from Technological Universities was clear. Both complex problem solving, creativity and asking good questions were among their favorite skills for their future employees. Mark stressed the importance of a company culture that fosters talented colleagues whereas Rogaczewski zoomed in on diversity and the need to attract female talents much more. Mark however also indicated that not all students have to become a "broad" engineer.
The role of universities
Companies themselves seek close collaborations with Universities and offer all kinds of educational activities to university students too. They feel the role of the Universities in teaching and learning is to take care of the fundamental skills. The compani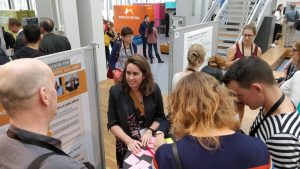 es would take care of the three pillars of engineering education "creativity, innovation and entrepreneurial mindset". A rather interesting statement. Do universities also consider teaching fundamental skills to students as their main task? Or could this be outsourced to online learning companies………
To take it a step further they felt that the employee of the future should have computational skills, far beyond simple coding languages, think of exponential technologies and learning through AI, have domain knowledge and tech knowledge in that domain, have multiple degrees, be a life-long learner and teach others how to learn all these skills. This would imply that we will be in business for a long time!
A contribution from both KU Leuven and TU Delft PREFER zoomed in on different professional engineering roles to help students understand what type of future jobs are there for them. The Roles show overlap with the TU Delft Think Tank roles drawn up in 2015 and are tested in companies and at the University. The improvement of study skills was also discussed. It became obvious that many engineering programmes are searching for appropriate methods that are effective and attractive for our students.
Research in Higher Engineering Education
The search for solutions and good ideas is probably the most typical for this SEFI conference. It also  pointed directly to the need for more and better research within Higher Engineering Education (HEE). In order to create knowledge, a deeper understanding, but also common language in the field of engineering education, we should free up more time to read an articles within the field and discuss it with our colleagues.
What we take away from the week in Copenhagen is that we have a strong European community in HEE. We have many common challenges, but also the ability to experiment to find out what works and what doesn't. To close of this inspirational week we also visited the Experimentarium, a science museum with a lot of hands-on experiments that we could discover ourselves. Here again as shown in the Virtual Speech experiment at TU Delft, not only successes, but also the brilliant failures are worth sharing.
Innovation spaces
The SEFI conference underlines that the 4TU's are working on the right topics, of which innovation spaces is one. The DTU's Skylab for example was the highlight of the campus tour. In this lab student teams can design and build artefacts for competitions and other purposes. Facilities such as these are being created more and more, also at our 4 TU's. In February 2019 4TU.CEE will organise an innovation space tour that will cover all four TU's facilities. More information will follow….
We want to thank DTU, for a well-organised conference. It certainly serves as a good example for the 4TU.CEE SEFI2020 conference to be held in Twente.
Read the 4TU.CEE SEFI 2018 contributions: